Buddha Park is the creation of a self styled styled mystic called Luang Pu (Venerable Grandfather) Bunleua Sulilat, who according to legend, fell into a cave while on an stroll in Vietnam where he met a Hindu hermit, who became his spiritual mentor.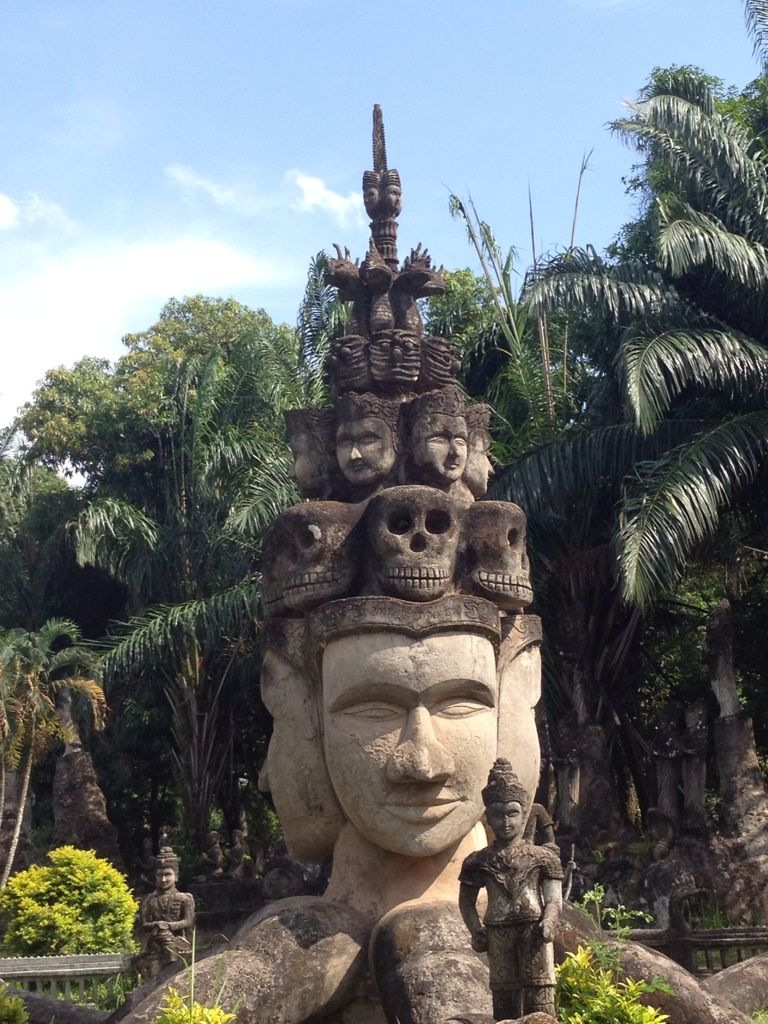 Located in Laos, 25 km southeast from Vientiane in a meadow by the Mekong River, the park contains over 200 statues, fusing together hindu and buddhist mythology and iconography. This unusual mix is often found in South East asia – the Thai king, though a Buddhist, is also considered as an incarnation of Vishnu.
Beginning in 1958, the park was constructed from donated concrete by hundreds of unskilled enthusiasts working without payment. Other residents of the area considered Sulilat to be insane.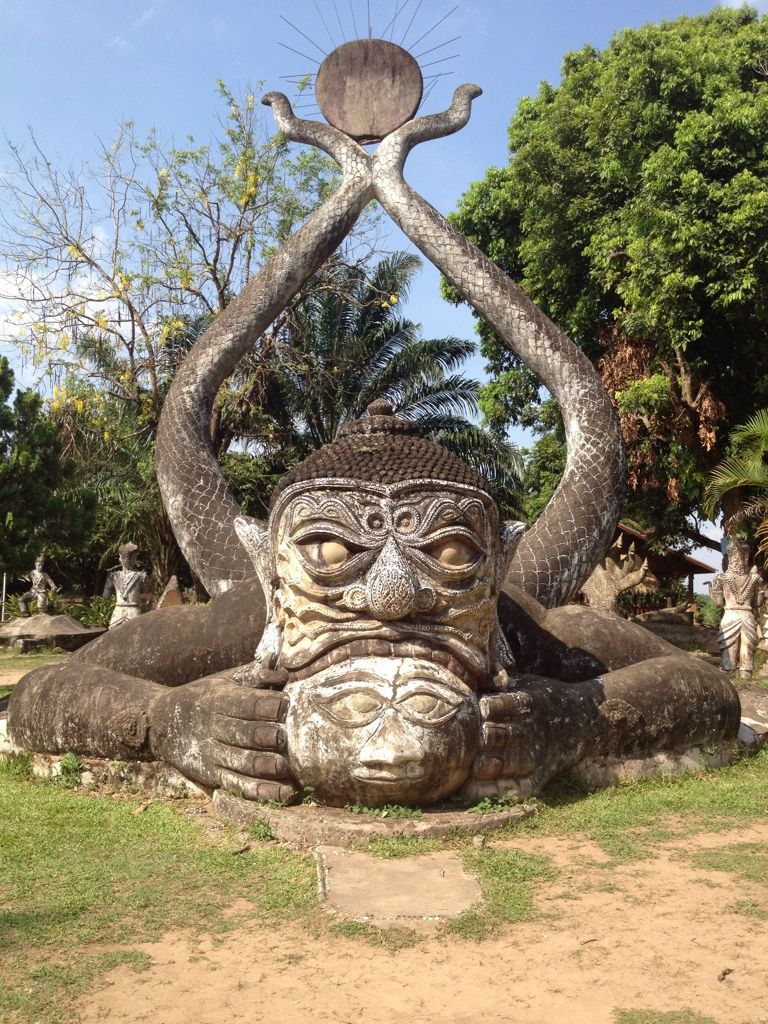 Although the concrete sculptures give the impression of having being built in antiquity, what sets them apart from older existing religious sites are the unusually large physical dimensions (made possible through the use of modern construction materials, i.e. concrete reinforced by metal structures) and Sulilat's rather unique style.
After the revolution in 1975 he fled Laos because his anti-communist beliefs conflicted with the newly installed Pathet Lao government. He then hopped over the border and across the river into Thailand where he built an even more elaborate park in Nong Khai.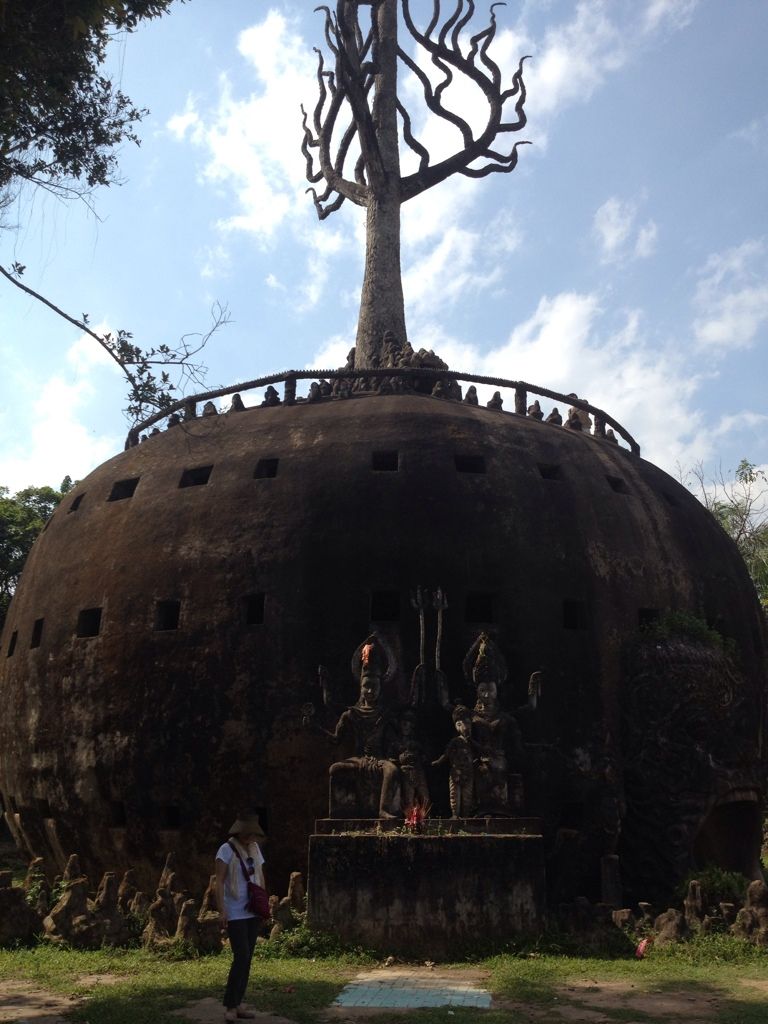 In the Buddha Park, among the many unusual sculptures one of them resembles a giant pumpkin. It consists of three stories representing hell, earth and heaven. Visitors can enter through an opening which is a mouth of a demon head (second photo below) and climb up a staircases (from hell to heaven) where a view of the rest of the entire park awaits.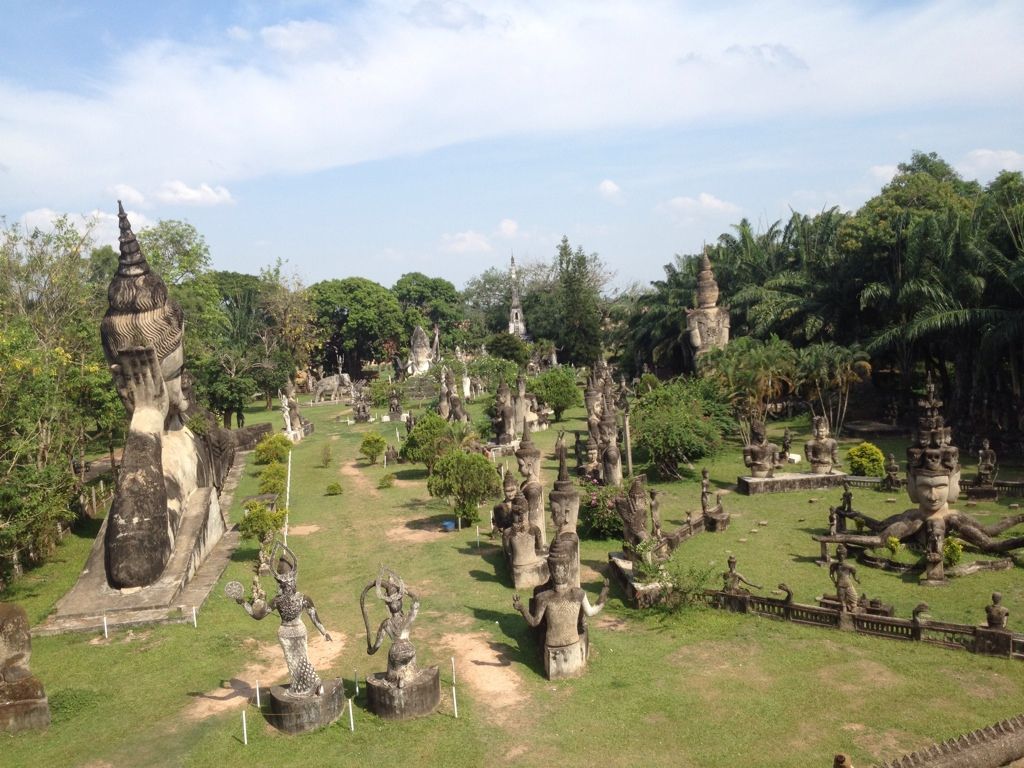 The park can be reached by catching bus no. 14 from vientiane which leaves from the main bus station every 40 minutes, usually jam-packed with people and the occasional chickens. The locals will know to tell you where to get off.
Hiring a motorbike is another option, otherwise tuk tuk drivers are always happy to take visitors there for an overcharged fee.
The park also includes a small riverside restaurant that serves coffee, tea, and beer food.